Darleyfalls All Zet To Do It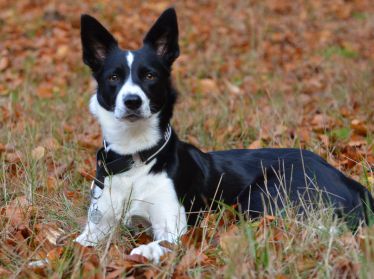 Pedigree name:

Darleyfalls All Zet To Do It

Pedigree reg.no.:

DK00418/2014

Date of birth:

20.01.2013

Breeder:

Heigt:

51 cm - 20"

Weight:

17 kg - 35 lbs

HD:

A-A

ED:
OCD:

Eyes:

0-0
Free

Clear as a puppy and adult
(Last examination 19.06.2017)

CEA:

Normal by parents

TNS:
CL:
MDR1:
MH:
IGS:

DNA normal
DNA normal
DNA normal
DNA normal
About Do It
I had first pick in the litter and picked Do It as she is a very positive active puppy. She did great in the puppy test, I did on the litter, and she is a natural when it comes to clicker training. She learns very fast and in a relaxed way. On her first day home she showed that she is very good with adult dogs. She is submissive in a relaxed way, but still VERY playful and naugthy.
As a grown up she is still great with all dogs and puppies and she was a perfect autie to Jiggy's puppies. As a young dog Do It loved to play with other dogs and she played with almost all dogs. She played a little rough, but not in a dominating way. After she had her first litter of puppies she turned in to a bit more of a lady. She still has a good temperament and she does not get in to trouble, but she is not as interested in other dogs anymore. Do It has no resource defence and she is not bothered by thunder or fireworks. Do It is not very interested in talking to people when we are out for competitions. She likes people, but she is just busy about something more important to her. At home she likes to stay close to me, and likes to cuddle a lot. She is almost always really close to me. Do It has great structure and she is very sound. She has a great jumping technique, and she is very flexible in her back. She stretches her back legs with ease and she can turn super tightly. There really is not to much bad to say about Do It... She is just plain awesome.

On the agility course she is very powerfull. She loves to run full speed and her need for speed is a bit bigger than her need to please the owner. She has tons of potential, but as a handler it is important to be clear with what you want from her as she likes to make her own decisions :). When the connection between her and I is good, there is no greater feeling than to run with her.
Do It's amazing family
I allways enjoy looking for good border collie lines and potential studs. In my search for a good stud I came a cross a great line of dogs from England. The dogs are breed by Sandra Adams and have the kennelname Darleyfalls. In this line of dogs I saw the same special something in all the dogs I saw. They all have pretty nice structure and they love to work. They are fast, agile and can turn on a dime while being good thinkers as well. They all have exceptional jumping power and a good jumping technique. Sandra co-owns the bitch "Darleyfall's I'm The Stig" and she was expecting to plan a litter start 2013. Many of Stig's full siblings have attented, Olympia, Crufts, WAO and the World Championships including Darleyfalls Dark Secret, Darleyfalls Pipistrelle, Darleyfalls At midnight. Look at this playlist to see Stig, her offspring and her brothers and sisters.

As I was in contact with Sandra from an early stage I was lucky to get to talk to Sandra about possible studs for the litter. After having talked about a lot of different studs, I found a Japanese male called Sonny "Sylvain Of Nagata House JP". Sonny was on the Japanese World Team 2012, 2014 and 2015. I suggested him to Sandra, and she liked him a lot too. Sonny is very athletic and best of all he has the most wonderful temperment in the world. Always being cool and content when not working, but ready to work if you ask him. On the agility course I would like to descripe him as not being crazy fast, but smart fast. Sonny's offspring show great will to work and good potential in agility. Look at this playlist to see Sonny in action.
So of Do It's family in agility
Chisu - Do It's litter sister
Batman - Do It's litter brother
Stig x Sonny
20 months old
http://youtu.be/MDy-OB2sLp0
Sunny - Do It's litter brother
Style - Do It's litter sister
Stig x Sonny
20 months old
http://youtu.be/YTg8s3SrU-s
Lark - Do It's litter brother
Lazy - Do It's halfsister
Konann - Do It's halfbrother
Father Sonny
4th place individual jumping AWC 2015
https://youtu.be/B2lwcIlLL7M?t=19s
Ikea - Do It's halfsister
Witch x Sonny
1st place Amadeus Cup

https://youtu.be/zYb5vEaSrfo
Do It's puppies from 2014
Do It has a litter of 9 puppies December 2014. Go to
their page
to read more about them.
Do It's heats:
Start - ready for mating
1: 2013 1/10 - 13/10
2: 2014 5/4 - 12-14/4 - 6 months + 4 days
3: Expected: 2014 1-10/10