Saturday 11th of January
Jiggy gave birth to 5 healthy puppies
Jiggy has delivered 5 super healthy puppies. They are 1 week old today. Read more on the
birth page
and the
1 week page
.
Friday the 6th of December
Yay... Jiggy is confirmed pregnant
Jiggy was at the vet for a scan last Monday. The vet could see at least 5 puppies. So, so happy. We could see a heart beat on all of them, and they all looked healthy at this point. Now the count down has started for real... only 26 days left.

Jiggy has been her normal self most of the time. She has stopped eating a few weeks ago and at this point in time she weighs the same as when she was mated, but I can feel she has "lost weight" on her ribs. Hope she starts eating soon, so she will not be to skinny when the pups are born.
Thursday 21st Of November
A little of this and a little of that
One section
- six ways of handling
Last Friday my students and my training buddies from the Danish Agility Warriors (DAW) ran a course that I designed (like we do every Friday). One section of the course gave us something to think about. We discovered that we could at least run the sequence in six differnt way. We decided to set up the course again on Sunday and record it to see which way was fastest. Henrik and Senna was the guinea pig for the excersice ;). Take a look and guess which way is fastest your self. To our big surprise the video was shared all over the world and it was wathced more than 3000 times in less than one day.
http://youtu.be/8aYmZDd9tro

Do It's training
Do It has had the kennel cough for almost three weeks, but now she is back in the game. We had our go at the extension/collection exercise from Silvia Trkman's foundation online seminar. Do It was a star ;). http://youtu.be/boE2vGDzI0c

Jiggy's pregnancy
I still don't know for sure if Jiggy is pregnant. She is happy and cudly all the time, but no sure signs of a pregnancy. We will know for sure on the 2nd Of December where Jiggy will have an ultra sound. Hope for the best ;)
Saturday 2nd Of November
Jiggy has been mated to Bull
Phew... Lots have happened in the last few days. Jiggy started her season on Thursday the 24th Of October. The last time Jiggy was mated she was ready for mating earlier than expected... But this time she turned out to be ready even earlier than last time... That made things a bit stressful regarding planning of the whole trip to Italy. Wednesday the 30th Of October Jiggy was tested at the vet to see how her progesterone levels were... And it shoved she was ovulating just then... That means she would be ready for mating two days later (on Friday).

I got in contact with Bull's owner Matilde rigth away and to my "horror" Bull was 400 km away from home. After a lot of trying to figure out how to get the mating to happen, we booked flight tickets for Friday to Rome and arranged to rent a car in Rome to drive the 400 km to Modena. My sisters husband Frederik had agreed to take Jiggy to Italy... I am so happy he was willing to do the long travel, as it is hard for me to get days of from work with short notice.

Friday I send Jiggy and Frederik to the airport in the morning and late Friday evening they arrived in Modena. The journey went smoothly, but it was a hard days work for Frederik. Frederik drove to see Bull at Matilde's hotel and only two minutes after Jiggy and Bull met each other they very tied together. Success!!! Seems it was the perfect time for mating.

Now we will try to do a mating later today and again tomorrow morning if Jiggy is willing. Jiggy and Frederik will come back to Denmark Monday.

Now the countdown can begin and puppies are expected to be born on the 1st Of January 2014. What a way to start the new year ;).
First mating was a success!
Monday 14th of October
Jiggy wins jumping open and update on Do It's journey in Silvia Trkman's foundation class
This weekend Jiggy and I participated in this years last competition... hopefully as Jiggy will be ready for mating really soon. Jiggy was super cool and we won the jumping open (72 participants), which was the first part of the regional championships. We then had to start last in the final. We had a great run in the final, but unfortunately one knocked bar kept us from winning the championship... We had the fastest time. Really great to get to run Jiggy again in competition... We have not had any competitions in DK the last month.
Jiggy's winning run in jumping open
Do It have joined the Silvia Trkman online foundation seminar. We get excersises for homework and then we film our training and get feedback from Silvia on how to progress in training. Most of the training (at least to begin with) is much about teaching tight turns. I have created a playlist with all our videos we send to Silvia. Enjoy.
A couple of weeks ago Do It and I attended our first agility seminar. Do It was a star. Take a look ;)
Do It on her first agility seminar
Wednesday 11th of September
Do It training on a small jumping sequence
I have been training with Do It on some small jump sequnces lately, and last week I took my camera with me to training. Do It is really cool. We even did our very first blind cross. Take a look for your self ;)
Jiggy's new boyfriend Bull have now been registered in the Danish Kennel club, so know everything is in order for the mating. Now we just have to wait for Jiggy to start her season. Hopefully she will start in about a month.
Saturday 24th of August
Stud for the B-litter revealed
I am proud to announce that the father to Jiggy's next litter will be
Never Never Land M' Black Racer
called Bull. Bull is from ISDS lines and he lives in Italy. Bull is fairly young, but he has already shown his great potential at the agility course. Bull also has quite a lot of relatives doing agility on top level. Bull has excellent structure, super jumping technique. good temperment and he is checked for almost all there is to check for when it comes to deseases, and he is perfectly healthy. I have tried to collect as much information as possible about Bull on the new site for the
Kennel All Zet B litter
. Jiggy is expected to start her heat in October and puppies are expected in December.
Jiggy's puppies from the first litter are almost 3 years now and they are doing super on the agility course. All Zet Air Attack Strafe just won silver at the European Open. I have super feedback on several puppies from top trainers like Krisztina Kabai, Janita Leinonen and Zeljko Gora and the owners are very happy with their puppies. Take a look at this playlist to see them in action:
http://www.youtube.com/playlist?list=PL48F481510F172E12
Thursday 8th Of August
Jiggy wins jumping class 3
Last weekend we competed at a competition where we were lucky to get some very good names from abroad competing against us. Jaakko and Janita had stopped by Denmark on their way home from the EO. Jiggy was very cool the whole weekend and we managed to win jumping class 3 and get the certificate. Here is the run:
https://www.facebook.com/photo.php?v=10200943507762517&set=vb.1010598505&type=2&theater
Monday 29th of Juli
Strafe won silver at the European Open
I am so proud of Strafe (Jiggy x Fetch) and Rosanne as they managed to do very well at the European open. They qualified for the final in three possible ways: Top 25 dog in both jumpers and agility run and overall best American dog. In the final they had an awesome run and ended up winning the the silver in the final just 0,072 seconds after the winner Janita Leinonen. Here is their amazing runs from the EO enjoy ;).
Sunday the 7th of Juli
Do It's contact training
Do It is doing great in the contact training sessions I have done so far... Really impressed with her speed and confidence. Do It is 5 ½ months old in this video and it is her 8th session.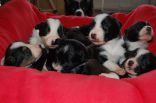 Friday 17th of May
Upcoming litter winter 2013/14
Hopefully Jiggy will get her second litter winter 2013/14. The sire is not yet completely decided, but if you are interested in knowing my thoughts so far please contact me for more information. Puppies from Jiggy's first litter are have tons of drive and talent for agility, so I am expecting nothing less for her second litter. Puppies will be available for homes that will work with them in any sports. Puppies are expected to be born around new years ewe and will be 8 weeks in march.
Wednesday 15th of May
All Zet Air Attack Strafe won three out of five runs at the American EO and WC tryouts.
Strafe and Rosanne are doing just super great. The A litter is only 2½ years old but Strafe is allready running like a pro. He attended his first WC/EO tryouts in America, and he impressed everybody by winning three out of five runs! Rosanne's handling is impressive and Strafe is a dream to watch. Strafe won his spot on the EO team that get their trip payed for. He would also have qualified for the world championships if it was not for Rosanne deciding to stay home because of the WC being held in South Africa. Here is his runs from tryouts - enjoy.
Tuesday 2nd of March
Do It showing all of her tricks
Actually I have not been training as much as I would like to with Do It, but she learn so fast, så she can already do quite a lot of different things. In this video we tried to all our tricks in one session which made Do It a little unfocused. I am pretty proud of our progress so far. Do It is 10 weeks by now.
22nd og March 2013
Do It clicker training and Jiggy's first competition this year
Do It is just a natural when it comes to clicker training, which is part of the reason I picked her in the first place. I have been training a few times with a touch plate and with a small crate... Take a look at Do It during some training:
And I must not forget about Jiggy. Last weekend was the first tryout for the Danish national agility team. We did not get any clean runs, but I am very satisfied. Jiggy was great but for some reason she had weave mistakes in three runs, which is not like her... Maybe it was the footing. It was in a horse arena and we have been training on artificial turf all winter... Don't know if that could explain it. I got to test my blindcrosses a bit and I am very satisfied with how they are at the moment. Now I just have to trust it a bit more. Looking forward to getting started with the competitions of the spring. Jiggy is awesome. Here is the best bits from the weekend (three out of four runs).
21th of January 2013
Do It had her eyes cheked and Do It and Jiggy are getting really good friends
Do It had her eyes checked at the vet yesterday. Her eyes are just as perfect as the rest of her... yay.

I am so happy with how things are between Jiggy and Do It so far. Sometimes Do It can not get a rest as Jiggy wants to play with her. They have allready started playing "paws and biting games"... So cute... And I just have the biggest smile on my face right now! ;). Here they are playing:
In this link you can see pictures from Do It's first walk in the snow... That was great fun ;)
http://www.facebook.com/media/set/?set=a.10151493018273398.1073741826.780318397&type=1&l=fd1744aef5
Tuesday 19th of March
Introducing: "Darleyfalls All Zet To Do It"
Finally... Now I can introduce my new puppy to you. Her registered name is "Darleyfalls All Zet To Do It" and her call name will be "Do It". She is just the cutest and craziest thing ever... Really looking forward to sharing my life with her ;). Do It has her own page here on the website. Take a look: Here ;)

Do It is just the perfect puppy so far. She was perfect on the trip home. She was not happy about the crate for the first 5 minutes, but then she went straight to sleep when we started the 1 1/2 hour drive to the airport. At the airport she was full of energy an...d luckily I had enough time to let everyone say hi to Do It... She was very popular. When it was time to put Do It back in her crate she was full of energy, but in less than a minute she was fast asleep. After 2 hours of flight she woke and was a little unhappy for three minutes and then went back to sleep. In Helsinki we had to wait for two hours, so we played and she "did her business". She fell asleep emidiatly when she got in the crate for our last flight again.

When we got home she was super happy and a little overly active I think. She was playing for three hours ;). Jiggy was amazing with her. She played tug allmost instantly, and Jiggy looked like she thought that Do It was a fun little thing. Take a look for your self... Here is a video of Do It's first experience in my her new home. A bit long, but I could not get my self to edit anything out.

Thank you so much Sandra for this wonderful puppy.
Wednesday 16th of January
New puppy in 2013
I have been wanting to have two dogs for as long as I can remember, but my planning gene has not allowed me to get a 2nd dog before now. Originally I wanted to keep a puppy from Jiggy, but timing of Jiggy's seasons and the fact that I still do not have all health results on all puppies from the first litter, made me look for a puppy from another breeder.

I allways enjoy looking for good border collie lines and potential studs. In my search for a good stud I came a cross a great line of dogs from England. The dogs are breed by Sandra Adams and have the kennelname Darleyfalls. In this line of dogs I saw the same special something in all the dogs I saw. They all have pretty nice structure and they love to work. They are fast, agile and can turn on a dime while being good thinkers as well. They all have exceptional jumping power and a good jumping technique.

I contacted Sandra Adams one and a half year ago and went to visit her this summer to meet the dogs. I liked what I saw. The plan was a litter on Sandra'a co-owned bitch "Darleyfalls I'm The Stig". Stig is very soft at home, but a pure power house when working. I got to run a little with both Stig and Stig's sister Pip... Stig has not been trained that much in agility, so she was very excited to get going... A little too much, but it was easy to see her potential. Pip is trained a little more, and she was really nice to work with.

As I was in contact with Sandra from an early stage I was lucky to get to talk to Sandra about possible studs for the litter. Last summer I heard that Mirja and Matej intended to mate their super bitch Witch with a dog from Japan called Sonny. I have talked some with Mirja about breeding and like the way she thinks, so I got curious and wanted to know more about this male. At the World Championships I keept an eye on Sonny and liked everything I saw... He is allways looking very calm and content, but he is still very fast and agile on course. I would like to descripe him as not being crazy fast, but smart fast. As soon as I got home from the WC I told Sandra about Sonny and luckily Sandra loved him just as much as I did. To our great luck Sonny would stay in Slovenia 2½ month after the WC, and Stig was expected to start her season in that period. A lot of planning, great luck and help from Mirja resulted in Stig getting mated to Sonny in the middle of November. A scan one month later showed 8-9 puppies. So it seems likely that there will be a puppy for me very soon. The pups are due to be born this weekend, and I am so curious to see the pups live. Great times ahead.

I have made a website for the litter with pictures and videos of relatives, pedigree etc.
http://janeelene.wix.com/darleyfalls
Tuesday 1st of January
Video from training
In autum we did not do to much agility, as I decided to give Jiggy a long brake after the agility season. This is from our first training on 55 cm and a full course (30th of October). The course is inspired by Jaakko. Jiggy is just so awesome to run with.